Best Noogleberry Add-on Everrrrrrr!
Hola faves,
We back again with another Noogleberry special, and oh how Noogleberry is so totes-special-amazing!

It is, quite literally, the first product that helped me see major results in my chesticles, and I am forever indebted to this top notch system.
Related: I Grew Over 1.5 Inches 7 Weeks!
BUT if you are an OG noogler, you know all too well that while the cones, tubing, pump and customer service are of the highest quality, the cushions have always been problematic.
That is, of course… until now!
The Silicone Rings are the Best Add-ons Evaaaaa!
Now it is true that NB has some formidable add-ons — I see you removable airlock system! But, because the new silicone cushions double as both amahhhhzing and a solution to every nooglers age-old problem, they totally win in the best noogleberry add-ons evaaaa department!
Related: How to Naturally Increase Breast Size
What we Love
These rings are just soooo good!
When the package arrived and I saw the soft + chunky silicone I was impressed.
BUT, when I used it on my girls for the entire night without any of the same issues that the foam nor the first prototype had, I fell in love!
Now, I am just in awe of these rings and honestly feel sooooo proud of them. They are my favorite comfort tool of any that I have ever tried for NBE! This is a big statement, I know!, but what I love is they:
Work brilliantly
Are soooo comfy
Can be used on original and contoured base
Are medical grade silicone
Feel gushy and amazing
Don't really get dirty/are easy to clean
Sandwich in the cone securely
Are fun to play with– gushy gushy gushy!
Feel luxurious, darling!
Protect the skin
Are totally worth it for the cost
Can be used with other breast systems like BB
Are easy to put on and remove
Can be bought separately
Are sturdy and durable
Related: Noogleberry vs Bosom Beauty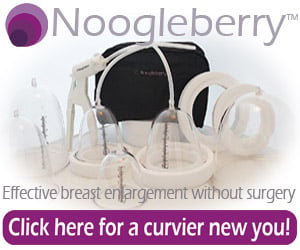 What we Don't Love
To be honest I lovelove these rings, so what I don't love is more like splitting hairs– not sorry 'bout it!
However, there are a couple things that might be considered not-so-nice and I would be remiss not to mention them here:
They are only for the Large and XL systems! Any nooglers with Small and Medium systems will have to wait until further production– which should be soon!
They seem to sell out quickly
Related: My Areolas after 3-Weeks with the NB and BB
Where to Buy
Noogleberry.com babay is the onliest place to get the good gear ?
What's the Cost?
They currently are £22.99 ($30)
Is There a Discount?
Yes! If you click in through this link and type in NHL10 upon check out then you can get yo' discount!
See it in Action
Final Thoughts
I've said it once and I'll say it a thousand times: the customer is always right!
Oh wait no that's not it… (#Space Jam on the brain), what I'll say a thousand times is: Natural Breast Enhancement is a journey! Most of us will continue on in NBE for years and years, trying as much as we can to reach our boobie goals. BUT that journey is made so much easier with innovative and practical tools that make our NBE time that much more comfortable! This is where these cushions totally answer the call! Noogleberry's silicone rings are, quite literally, the best add-on everrrrr, and my skin is so much happier for them! ? Thanks NB!x
Did you know about the new rings already? Have you already received yours? Let us know down there ↓
Get your own NB system and rings here
Check out our NBE playlist on youtube
Join our natural living circle by subscribing!
Take care of your vessel, massage, massage, massage!
Love ya's 💋