Dangers of the Noogleberry Breast Pump- Read This First!+ Before and After Photos
Ok handbookers, the good news here is that copious amounts of research and testimonials from actual long-term users show that the Noogleberry breast pumps are safe and A-ok to use! So why the ominous words in the title? Well, my friends, the dangers of noogling lie in being a silly lady like I was.
Now if you have been handbooking as you know you should you are already aware of the exciting feeling that follows noogling and know that for the next few months you and I will be traversing down everything that is Noogleberry to see how the system works step-by-pumping-step!
Related: Noogleberry Review: How Does it Work for Breast Enhancement and is it for Me?
Remember, the Noogleberry is a natural, non-invasive, non-surgical way for breast enhancement. If you do a quick web search on it you will be bombarded with glowing stories of how the system has changed the lives of many, helped with confidence, and yielded sought after results (yeah you know I had to try it out!). If you type in dangers of breast pumps you'll be happy to learn that (with the right company) they are both effective and safe, and long-term harm (or any kind of harm) is not something that you find with our Noogleberry. BUT you must be a smart user else you will run into some unwanted hitches.

Related: Noogleberry Pump Review- Sleeping with the Noogleberry for 3 Weeks + Video Update
Not For Silly/Impatient Women!
After first receiving my pump and rearing it for action I was ecstatic. Like that over-the-moon lets get pumping lets make my dreams happen now kind of ecstatic. I barely read the instructions (because I had read tons of info leading up to actually trialing the system) and fervently plopped the cones on and pumped baby pumped.
I watched them expand and continued to pump, pump, pump. Yes I felt some pain and major discomfort but my determined personality entreated me to keep them on and shuffle through the pain. After about 25 minutes of having the cups on I picked up the detailed leaflet that comes with every purchase. On the front page are the words "you should continue to pump until the breast is engorged and enlarged enough without causing pain." Oooops!
I released and let my girlies breathe and saw the damage that was done. Funnily enough, after causing myself unnecessary pain I remembered something from one of the noogling blogs that I had read before. Little red spots (popped blood vessels) or rings that do not go away in 10/15 minutes means that you are pumping too hard! Oooops!
So there I was with little red spots and a painful cut on my right breast where I simply, and unnecessarily pumped too hard. These, my handbooking friends are the dangers! Not paying attention, being hasty when you first set out on pumping, over-pumping, and being an impatient/silly lady.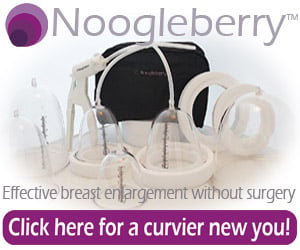 You Need Patience for Noogling
What have I learned in this week? Patience! We do not need to over-pump to get desired results. The breasts will not get bigger/fuller/firmer faster and we will only do ourselves a disservice through such haste. I have a little mark (that is thankfully healing) from where I have over-pumped (it was way worse before) but the good news is I went through the pain so that you do not have to!
From a silly woman to the wise Noogler, use your patience! When used correctly the Noogleberry is not dangerous and the days that followed that first melt-up have given me no trouble.
*Like the pamphlet recommends using a cream or lotion is great for aiding the suction of the cup and I find that it also helps with moisturizing the skin. One of the best moisturizers of all time is unrefined shea butter and I would highly recommend using this as an accompaniment with your Noogle pumps.

My One-Week Update
I find the Noogleberry to be of supreme quality. Seriously! The pumps are what quality is made of and even has the word "Noogleberry" printed on it. That's class! The pump is effortless and unlike the cheap version of a breast pump that I tried some time ago, the cups stay on with no problem. Many women have different techniques when noogling and a popular medium seems to be to keep the cups on for 30 minutes to an hour and apply a little pressure on the hand pump when necessary. I've read that many people find greater success when pumping and leaving on for 7 minutes, releasing for 2 (to stimulate blood flow) then carrying on that way for 30 minutes to one hour. I am a little too lazy for this method and leave the cups on for the duration without any release other than when I add the bigger boob to the mix. I pump both breasts at the same time but usually start solely with the left (the smaller, wonkier one) for fifteen minutes then add the the right one and carry on for 45 more minutes. After my hour is up I give them a light massage with shea butter then am solid until the next day!
*Use my code NHL10 on Noogleberry.com for a 10% discount!*
The goal is for the left to catch up with the right and for them both to become the fuller entities I know they can be! Will they succeed? Only time will tell! So make sure you are here next week for the next update and more coverage of our Noogleberry friend!
Have questions about this exciting breast pumping quest? Comments? Make sure to leave them below ⇓
This is totally share-worthy so make sure to hit those share buttons for your favorite social sites and help your sisters out!
Want your very own Noogleberry system? Click here to order one but before you do make sure to ask for Lucy to get the correct size 😉
Stay updated with the Noogling fun and all the natural beauty hacks from the Handbook by subscribing!
Enjoy your day, and don't forget to slay x