Noogleberry Before and After- I Grew Over 1.5 Inches in 7 Weeks!
Hey Handbookers and Nooglers!
So I'm buzzing! Absolutely over-the-moon with my Noogleberry results. I have been sleeping with my Noogleberry system every single night for 7 weeks now and almost can't believe how much my girls have grown.
Related: Noogleberry Review: How does it Work for Breast Enhancement and is it for Me?
ZoraAnabelle and Zena
My girls are called #ZoraAnabelleandZena from right to left (Zena is the small one) and while they are stars in their own right and I appreciate and love them to bits, I have trouble with a few of their qualities including their unevenness. Zena is the runt of the family and can't yet seem to match her sisters fly. Both girls suffer from non-cleavage-itis (totally made that up…) and could each use a little, what the doctors call, somethin-somethin in the under-boob area. So, 7 weeks ago, I decided to give my girls a little edge with sleeping with the Noogleberry system overnight.
*Use my code NHL10 on Noogleberry for a 10% discount!*
In my other post's in this series I explain what the Noogleberry breast pump is, who it's for, how it works, and also mention that it takes a considerable amount of time before most users see results. I'd even read on countless forums how most women didn't see any difference until 5+ months after using the system!– that's including those who slept with them on ?.
Needless to say, even though I embarked on more uncomfortable sleeps in the name of #ZoraAnabelleandZena's well-being, I didn't expect to see anything major so soon. Yet in the first 3-weeks I went from 36″ to 36.5″ and was astounded and damn near blown away!
Related: Noogleberry Pump Review- Sleeping with the Noogleberry for 3 Weeks+ Video Update
When it came to the next month of Noogling, I continued only measuring at the end of each week, revealing the results to myself at the same time as I revealed them on camera.


4 Weeks
I went from 36.5″ to 36.75″
5 Weeks
I went from 36.75″ to 37.125″
6 Weeks
From 37.125″ to 37.5″
7 Weeks
From 37.5″ to 37.625″
In Total
I went from 36″ to 37.625″ meaning I gained 1.625″ in 7 short weeks! Wowza
I'm still a little in disbelief at how fast I am seeing results and in how well this system is working. It certainly gives me motivation to keep going and makes me excited for the future. At this point I feel like I just might reach my boobie goals!
Thoughts on the Current State of my Breasts
I am very obviously happy about the growth of my breasts. However, I still see a large disparity from the left and right and as this is my primary concern, I realize I still have a long way to go before I can say that all my dreams are coming true.
Although I have proof of them growing, I don't see much of a difference when I look at them. They have this wonky quality to them and it doesn't make me jump for joy at this point to see them quite unchanged when I look in the mirror or in photos. I'm hoping all this can be sorted out.
My tops do not currently fit any differently and I still don't find that I have natural cleavage in most outfits that I wear.
The under-boob game has not yet stepped up and the girls still have quite a gap between them (they truly aren't identical twins yet).
ZoraAnabelle is huge! It's like she just won't stop growing! She looks great and I can only pray that Zena follows suit.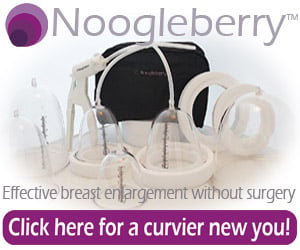 Week 7 Update
For this past month, I massaged the ladies each with flaxseed oil for about 20 seconds a day. The wise lady might do this act for much longer as it really stimulates the breast tissue, promotes growth and overall breast health, but as I am lazy, I only rub for 20 seconds each before putting my jammy shirt on and going to chill on the couch!
I didn't find that my breasts were super itchy this month and there weren't really any other physical signs of growth that I could point out.
I still have some scarring under my breasts where the cones pressed into my skin too tight but thanks to the wonderful Lucy of Noogleberry, have the silicone cups coming to me very soon which will prevent the hard plastic from torturing my skin.
I am having an easier time sleeping with the Noogleberry as I am quite used to them now and have added pumping whilst chilling on the couch to also sleeping with the cones when I go to bed.
I am still pumping about 3-5 hours every single day!
I have no pain or discomfort from using the system, aside from if I pump too hard and the plastic digs into my skin. It is easy to release when this happens, so long as I am awake!
Related: Dangers of the Noogleberry Breast Pump- Read this First! +Before and After Photos
7-Week Video Results
At This Point…
At this point I couldn't be more excited for the future with the Noogleberry system. My breast growth dreams are totally coming true and I just hope that my other major goals– primarily evenness and cleavage– can be made a reality as well. If you are looking to enlarge your breasts naturally then I would definitely, completely, and fully recommend this system as for 7-weeks it has proven itself to be effective in that area. I can only hope that I can say the same for the other areas of my boobie dreams by the next update in one month! My 11-week update will be by the 17th June 2018!
What do you think about this system and the results I've been having?! Let me know by commenting below
I know you want to join me on #myboobiedreams journey, so get your own system here BUT make sure you contact Lucy of Noogleberry first to get the right sizing and ask any questions you might have. Make sure to tell her Manika-Nia from HNLH sent you!
Make sure you check in by the third week of every month and subscribe so you never miss out!
Follow us on your favorite social sites 🙂
Make sure to treat your breasts right by giving them a daily massage and loving them regardless of the stage they are currently at!