Noogleberry FAQs Answered by a Seasoned User
Hey my NBE team!
Welcome to the handbook, where the girls always be natural! When it comes to natural breast enhancement, the questions pile up! So I'm here to answer the top ones from my personal experience with the coveted big-boobie-making Noogleberry system.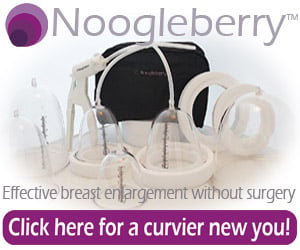 1. How long do I have to use the system?
On Noogleberry.com in the faqs section it recommends wearing the system from anywhere between 6-9 months before deciding if the system is working for you or not. However, I recommend giving the system a full year of consistent use to see results.
2. How often do I need to wear it?
Noogleberry advises to wear the system for 30mins- 1 hr per day, but your girl recommends wearing the system for as long as you possibly can! I only saw my first spout of results after wearing the cups for 5-7 hours a night.
3. Can I sleep with the system?
Sleeping with the system isn't a walk in the park, but it can be done! In fact, I recommend sleeping with the system every night for quicker and better results!
Related: Sleeping with the Noogleberry for 3 Weeks + Video Update
4. Are the results permanent?
ThoughI received my system in August 2017, I only started to use it consistently in the beginning of 2018 and woman did my girls grow! I went from a B-cup to a C-cup! At the end of June 2018, however, I took a break, nearly a 5-month break!– and the growth remained through the entire period. I was happy to know that the growth wasn't temporary and I'm happy to tell you that from my experience I believe the results are permanent. Watch my video here to see proof.

5. Is it safe?
The site says: "We are not aware of any evidence showing that the system can cause any serious problems or side effects. Many surgeons and doctors recommend the system to their patients before and after breast augmentation filling procedures," and while that is all well and good, there is nothing like hearing it from a real-time user.
I was afraid of using something that would disrupt my hormones or cause my cells to change and potentially go cancerous. Noogleberry could tell me all day that the system is safe to use but I couldn't fully commit to the system until I heard from women who had experience. That being said, from my experience, my answer to this most asked Q is YES! The system is safe to use.
Related: Dangers of the Noogleberry Breast System– Read this First!
6. Can I still use the system if I have uneven breasts?
Oh yes you can!.. and you definitely should! Aside from wanting my ladies to grow fuller and more round, one of my biggest reasons for seeking out breast pumps was to help encourage my smaller left breast, Zena, to match her sister ZoraAnabelle. A fabulous feature of all Noogleberry breast pumps is that we can disconnect the Y connector and reattach to pump only one breast (see the video below to see how to pump with only one).
7. Will this affect my hormone levels or periods?
While certain NBE products may affect our hormones, the Noogleberry system will not.
8. Can it be used with other breast pump systems?
Yes! Many of the top breast pump systems work in tandem. We can also switch up the cones, use the padding between different systems and sometimes even use the tubing. I think mixing a hand pump with an electronic pump is an excellent idea.
9. Are there any ongoing costs?
There can be ongoing costs if your breasts grow! If you start out with a large system and your breasts grow so much that they can no longer fit, you will need to purchase the next size up. This ongoing cost is one that I'm sure we all want to pay as it indicates real growth! The hand pump, cones, and tubing are made of such high quality that we don't need to worry about them breaking and needing to replace them.
10. Do I have to use this with additional pills, supplements or herbs?
The Noogleberry works perfectly well on its own, so it is not necessary to use it with additional pills and supplements. However, using with additional supplements or herbs that are safe might help you see better results and results much quicker.
11. Should I massage?
I touch on this so much in my videos and here on Girl Be Natural. You should massage! This is one of the most important acts we can do on our NBE journey. Massage every day! Check out the videos on our YouTube channel to learn an amazing technique!
12. Must I tape up my nipples, and will they grow?
When first learning of the Noogleberry breast pumps I was concerned about nipple growth. I came to learn that my nipples wouldn't grow but my areoles (the pigmented skin around the nipples) might. I didn't want this at all and sought to actively prevent this by taping down my nipples and areoles. The bandaids, tape, and pasties never stayed put for me so I personally pump daily without them. There is a chance that the skin might grow but you do not have to tape them down if you don't want– especially if you find it impractical as I did!
13. Does the padding help with redness and discomfort?
The padding that you can buy fromNoogleberry.com was designed to help with redness and discomfort. Unfortunately, the suction is so strong with the system that it renders the foam rings ineffective. I would not recommend using the Noogleberry padding but to prevent the hard plastic from digging into your skin might use the padding from Bosom Beauty instead as it works amazingly well.
14. What does it mean if my breasts turn purple?
If your skin is turning a dark shade of purple or red it likely means that you are over-pumping. Watch what you are doing! Never cause yourself pain and practice pressing the release button every so often so your breasts can expand and release, allowing them time to adjust and re-adjust.
15. What is hydro-noogling?
Hydro-noogling is where you bathe with your system. The water helps the cones stay in place better and this method is great for those who are new to the system and who are having trouble with the cups staying in place. The Noogleberry has a learning curve, and the body needs to get used to the cones for them to stay on more readily. Hydro-noogling can help with this! Plus there aint nothing quite like a nice bath 😉
16. What is the best breast pump system around?
The top 4 systems that people rave about are:
Noogleberry, $60-75

Bosom Beauty

,

$140-186
Brava, $500-750– cannot figure out where to buy currently
Enhance, $250
You can purchase them each on the link provided.
Related: Top 10 Things to know about the Noogleberry Breast Pump
17. Check that Video

Conclusion
That's it team! The top questions answered by a real-time user. I hope that they help any aspiring nooglers to make an informed decision about the Noogleberry system, and helps any current nooglers to stay on track. This journey has been one of my favorites so far and I hope you, too, have been having a ball making your #boobiegoals come true! Love ya x
Was one of your burning questions missed from this list? Ask it below, and it shall be answered!
Get your own Noogleberry system here and use NHL10 to get a 10% discount, must click through the link for it to apply
Stay social! Make sure to follow us and share this post on your favorite sites
We regularly post great tips, fun facts and special updates so make sure to subscribe so you never miss out!
Massage your girls every day and ask for your boobie goals to become a reality!
Girl Be Natural!