Noogleberry Review: How Does it Work for Breast Enhancement and is it for Me?
Hey my darling handbookers!
Ready for this one? Well I hope so because it just might be the answer to your boob prayers! For all my ladies in the itty bitty tittie committee, those with uneven breasts, sagging boobies, and those wanting to increase bust size the natural way, this system could be exactly what you are looking for.
Related: Noogleberry Pump Review- Sleeping with the Noogleberry for 3 Weeks + Video Update
What is Noogleberry?
Noogleberry is a company that has health products for both men and women though we will only focus on the products for women in these series. Noogleberry is best known for their breast enhancement pumps and systems that work to give women (like us) the results we were not naturally endowed with.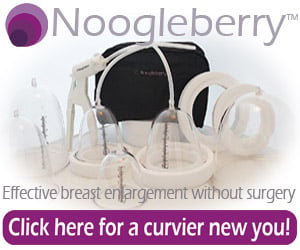 How Does it Work for Breast Enhancement?
To quote the Nooglebery site verbatim, "Like any tissue in the body, when it is exercised and blood flow is encouraged, it will enlarge. This system uses this principle on the breasts. 15-30 minutes a day, using the system will result in firmer, fuller breasts" they go on to explain, "A cup is placed over the breast area, and the pump is gently pressed. This creates a vacuum and causes blood to flow into the breast, therefore causing it to expand right before your eyes. At first swelling occurs but over weeks, the swelling is replaced by proper increase and growth" and that pretty much sums up the process and how it works for breast enhancement.


Is This For Me?
Well to answer that question you first need to ask yourself what are your breast goals? Larger, fuller, firmer, even? If yes to any of those then the system can certainly be for you! One of the best things about this system is hearing/reading about the many of plenty of success stories with this system. It is very popular because it is an all- natural, safe way to reach breast goals that has worked for many happy women.
Related: Dangers of the Noogleberry Breast Pump- Read This First +Before and After Photos
The Perks of Noogleberry
One of the best features of being part of the system is the community. Noogleberry forums are always going with fellow users discussing their goals and progress. The customer support you get is really unlike anything I've seen before in that someone is always available to answer questions and fully guide us through using the system, including the correct individualized cup sizes to purchase. It is very inexpensive considering what it does and you can purchase your own for upwards of $50. You can do it straight from home and on your own time and as your breasts grow, there are more options to accommodate your lady lumps.

Brief (↓4minute) Video Synopsis
What it Does for Me
Courtesy of Noogleberry, I have just recently received my very own breast pump system making this post the very first about my personal results with the system. I wear a B cup (I think– I don't wear bras lol) and received the Large Contoured Breast System and such was chosen after I sent my measurements to the lovely Lucy of Noogleberry. She recommended the right system for me and now I am good to go. I would love to reach a C cup but would mostly love to even out my breasts as the left is noticeably (at least in my opinion) smaller than the right. So even, fuller, larger breasts are what I desire and I will be updating regularly so you can get a full scope of my progress and what it does for me. I am very excited for this entire process and more excited to share it with you, my precious readers.
*Use my code NHL10 on Noogleberry.com for a 10% discount!*
Bottom Line
Breast enlargement pumps are one of the most effective ways to get those well sought after curves the natural way and the Noogleberry leads the way in taking us there. Though there is an overwhelming amount of positive reviews and success stories with this system, my goal is to add to the list so you can be fully confident in trying the system for yourself. So make sure to subscribe so you are sure to get all the noogling updates! This is only phase one in the Noogle fun, and I already can't wait for the next one!
Let me know any and all of yout thoughts on this post by commenting below ⇓
Share this on your favorite sites because I know you know many ladies who would love to know about this system!
Subscribe darlings, you won't want to miss out on this series!
Don't want to wait for my "does it work" updates? Jump ahead and get your very own Noogleberry pump here
Give yourself a breast massage daily with a natural oil or cream and continue to manifest your ultimate breast dreams!