So Well Made Review: Himalayan Salt Lamps and Pink Joy
Darling readers,
Today I want to present something very special. Those in the know, know that Himalayan salt is something to both eat and keep around regularly. Himalayan salt is usually pink in color and is sometimes known as pink salt, Himalayan crystal salt, or Himalayan pink salt. Himalayan salt is normally in the crystal form and you can bet this salt is the pure untouched stuff. The salt has 80+ natural minerals used by the human body and as you can imagine has a slew of health benefits. The wise ones prefer pink salt to regular table salt because of its natural state and what it offers to the body. Benefits include:
stable pH balance
regulating water levels
healthy blood sugar levels
kidney and gallbladder health
vascular health
reducing the appearance of aging
promoting sinus health
supporting healthy respiratory function
healthy libido
healthy sleep patterns
reducing cramps
I know, right! That's a ton of benefits! Himalayan salt has within each crystal this superb energy that positively charges the body, and if you didn't know it tastes just like normal salt! In my home we only use the pink stuff and aside from looking so darling on the shelf, I love how much more clean I feel in using this salt over the highly processed, refined, polluted table salt.
SO WELL and the Pink Joy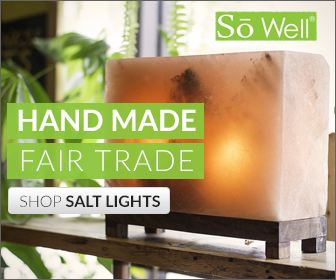 My love affair with the pink crystals led me to a company who specifically specializes in the healing powers of Himalayan salt and as this company proves, this stuff is magic even if you aren't eating it.
So Well or So Well Made is a company founded by Isabella Samovsky. Her story is truly an inspiration because it is marked with helping the world become healthy and "so well." The company was founded in 2004 after Samovsky fell in love with a Himalyan salt lamp, and from then she endeavored to share its wonder with those of us who were unaware of its properties.
What I really love about So Well is the fact that not only is the salt sourced straight from Pakistan (where the Himalayan salt caves are), the products are crafted by a family of artisans who are taken care of by the company. This means that their love is shown in every item that is created. This is the stuff my dream companies are made of! So Well also take the lengths required to create something when needed, which is what we Handbookers love. The products available on the SO WELL website allow you to shop by remedy or category.

Remedy
Eczema Treatment
Respiratory
Sleeping
Detoxing
Allergies
Stress Relief
Pain Relief
Category
Fair Trade Salt Lamps
Salt Therapy
Healthy Cooking and Kitchen
Natural Bath and Body
Organic Skin Care
Non Toxic Home and Spa
Art and Spirituality
Natural Pets
$3 Samples
Clearance
Himalayan Salt Lamps
I love that So Well offers samples for many of their products and find that the prices are very reasonable, especially considering the wonderful things they do. So Well is mostly known for their lamps and they are some of the most beautiful I have ever seen, with the Hanging Mandala Mobile being my absolute favorite.
As you can imagine the salt has many of the same effects when placed around you as they do when you eat them and the lamps take it that step further by actually purifying the air… I know, right! The lamps/lamp holders go anywhere from $10-200 meaning there is literally something in there for every price range.
The clearance tab is also something worth checking regularly as you can get some unbelievable deals.  As of today, August 2017, the Hanging Mandala is on sale for $24.95 down from $38.. oooh that's nice. The different styles and colors also make it easy to fit into a home or office setting; they are simply beautiful pieces and add to the ambiance of a room.


There are many benefits of having these salt lamps in a home but my most cherished aspect of them is that they reduce the impact of the positive charged ions that are a result of the radiation that is literally all around us! Crystal salt contains negative ions which of course balances and ionizes the environment around us. Remember we are in the age of toxicity and our laptops, tablets, phones, and other gadgets are teeming with positively charged ions. Himalayan salt lamps let their negative ions merge with the positive ones and ta da a wonderful purification occurs.
As far as I am aware, all products from SO WELL are infused with the pink stuff and aside from the famous lamps, SO WELL has natural alternatives to things like certain cosmetics, soap, multipurpose cleaner, bath salts, powder deodorant, face scrub/cream, salt inhaler (for asthma), and body butter. Shipping is calculated after you input your address, but the flat rate for US customers is usually $7.95. As of now they only ship to the US and Canada.

Final Thoughts
SO WELL is one of those companies of love and it really shows in the quality of their products. They stand for an ethical, fair trade, natural, safe, and environmentally friendly world and I can always get behind that. The lamps are super easy to maintain and along with the incredible benefits, they make a room look something special. If you haven't already, it is about that time to get this pink joy in your life!
Shop for your own special lamp or So Well product here
Let us know your thoughts on this post by commenting below
Be the first to share this post by clicking on your favorite social sites
Subscribe to stay current on all the natural living love
Breathe, smile, and have a beautiful day!